About Rebecca Hart, APR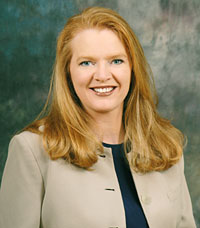 Rebecca Hart, APR, brings to Hart & Partners her expertise in public relations for a broad spectrum of organizations, from Fortune 500 companies to nonprofits, from multinational corporations to start-ups.
Among the clients who have benefited from her award-winning programs are Pfizer, Discover Card, IBM, McDonald's, Merial, YMCA, and Blue Cross and Blue Shield of Florida.
To create a firm foundation for organization success, Rebecca contributes her understanding of aligning organization goals with strategies and outcomes, while building successful relationships among stakeholders at many levels. She is adept at coordinating event management and crisis communications, as well as focusing public relations and marketing efforts for maximum response.
Rebecca also co-founded a research business that specialized in panel research for strategic groups.
During her career, Rebecca has accrued an outstanding record of accomplishments. Highlights of her professional experience include:
2010 Chair of the University of Florida PR Advisory Council
Winner of 2009 "President's Award" from the North Florida chapter of PRSA for service to the chapter
Winner of 2006 "Ray Bullard PRISM" Award from the North Florida chapter of PRSA for public relations professionalism
Recognition for best public relations campaign in the state, earning the 1997 Dick Pope All-Florida Golden Image Award
Management of national and regional clients including media relations, sponsorships, business-to-business communication, public relations, and crisis communication
Projects and product launches involving tours and promotions with major recording artists
Working at DDB Needham (Chicago) in the year the agency was awarded Agency of the Year by Advertising Age magazine
Profiles of her work published in national and international periodicals, including Inc., LA Times, Business Start-Ups, and USA Today
Past president of the North Florida chapter of the Public Relations Society of America, and received accreditation from PRSA in 1998.
Part of Rebecca's success comes from knowing the news and publishing businesses. She has worked as a television and radio anchorperson, producer and reporter, as well as serving as associate editor of International Tennis and writing articles for international publications.
As an accredited business professional, Rebecca is active in the Public Relations Society of America (PRSA). She is a past president of the North Florida chapter of PRSA, a committee member of the national PRSA board and coordinator of the chapter's first Past Presidents Council.
Rebecca graduated from the University of Florida with a degree in telecommunication. She served her alma mater as a member of the college's prestigious Public Relations Advisory Council.
She lives with her three boys, (husband Todd, sons Jacob and Alexander) in Neptune Beach, Florida.